Gosh, I can't believe it's been almost 3 months since we got married. Well, there's a ring on my left hand and a happy husband right next to me. But other than that, I can't believe how fast time flies yet it has only been 3 months. I was pretty divided whether to write this post or not, but then I decided to go for it. Why? Well, I know that every bit of information is priceless when planning a wedding and maybe you will find something useful. Without further ado, let's jump into the magical world of weddings.
Note: All photos in this post are from: Neža Reisner Photography team.
Maid of honor and Best Man
By law here in Slovenia, you don't need a maid of honor or a best man to get married. This is something new and it might be a good choice if you are going to elope or if you just want to get married without any fuss. But in our case, we couldn't imagine our wedding without maid of honor and best man. We choose two of our best friends, that have been in our life through ups and downs. A lot of people choose their siblings if they have any, that's pretty customary here in Slovenia too. I honestly can't imagine not having my wonderful maid of honor right next to me on our wedding day. She was perfect. She helped me with everything I needed, but most of all, she was the emotional support I needed.
Wedding Reception / Venue
Now that we had a maid of honor and a best man it was time to find the venue. Keep in mind, that we only started looking for venues in February (our wedding was in the beginning of May) We always wanted a small and intimate wedding, surrounded by our closest family and friends. It was super important to both of us that our wedding reception has the qualities of a beautiful, intimate space, surrounded by nature and calm environment. The venue we decided on was Pule Estate, in my humble opinion the prettiest Estate in Slovenia. Boy oh boy, how happy we are that we made that choice.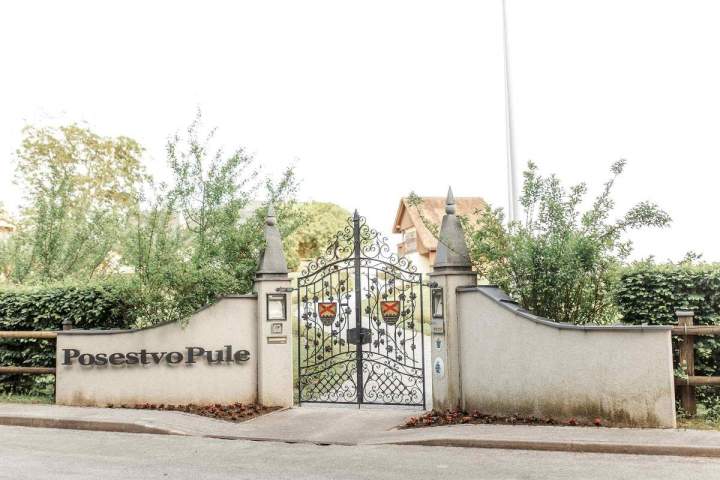 The Estate on itself is located in an extremely beautiful environment, surrounded by trees, birds singing and is said to have a lot of sunny days. What more can you ask for? It's an absolutely secluded estate, so no neighbours, no noise, no disstractions. Only nature, friends and good, positive energy. They also offer accommodations which is great. The food was delicious, local and beautifully presented. The estate is also well taken care of. It's clean, beautiful, the word perfect comes to mind, perfect for our wedding venue and our wishes. It's a pretty popular wedding destination, so it's hard to book a Saturday (you should probably book far sooner than 3 months ahead :) But that wasn't a problem for us, because we had a wild idea of marrying on our eight anniversay, which was on a Tuesday. That wasn't even the slightest problem for Marko, which was in charge of everything on Pule Estate. He was super helpful, kind, resourceful and ready to help with everything we needed. We can't thank him and the whole team enough. Pule Estate will always have a special place in our heart.

Wedding Photography

All the photos you see in this post are from Neža Reisner Photography team. Mihaela and Matjaž took these beautiful photos and I can't reccomend this kind team enough. We first saw them in action at our friends wedding and they were almost invisible (which is a good thing for wedding photographers) plus we loved their photography style. Also a plus was their positive energy and happy vibes which I cannot emphasise enough how important it is to actually like the photographer shooting you and your most memorable day. Their price range is good and fair, so that is a plus too. They offer different kinds of packages, we took a short one (4 hours), only because we wanted the dinner and party to be intimate and carefree, without a sense of someone photographing you. But that's just us, probably because we are in front and behind the camera a lot otherwise.

Decoration, Reception and Flowers

Oh yay, my favorite part. I am actually surprised how easygoing and trusting I (and Jernej - he's the perfectionist in our marriage) was about the flowers and decoration (since I am an interior designer - we tend to be controlling about those things). But if there's something that taught me being in the creative business is that when someone trusts your work, instinct and professionalism, you work even harder and better to make the project as perfect as it can be. And honest to God, it was the same with our wedding. We trusted everyone who was involved in our wedding and that payed off. Let's start with the decor.
We got married in a local church, dear to our hearts. The plus was that our dear moms decorated the whole church themselves only one day before the wedding (forever grateful), the minus was that was extra work for them. We wanted our wedding to tell a story, so it was important that the invitations, flowers, church decor, reception and the venue have the same vibe.
After the church wedding we had a small reception. We were thinking about hiring a catering company, but then we thought, you know what, we work in the food business, we can do this. It is a little extra work, but don't be afraid or worried to ask your friends and family to help out. As food bloggers, we always need props and food decor so it made sense to go to a near store, where they sell cheap bowls, plates, baskets and buy what we need - we can always reuse bowls and baskets. Strawberries were in season in May and we bought the cookies and croissants at the local culinary high school - it's always good to support the locals. There were also homemade vegan, fish and meat sandwiches made by us and our family. We loved how it turned out. Simple and tasty.
We also bought glass beer bottles and my dad filled them with homemade elderflower juice and "špricer" (a combination of wine and sparkling water). Then he popped our personalized label on it and voila, it was all done. Personal, unique and delicious. We didn't want to have champagne and champagne glasses right after the wedding, because all our guests had to drive to the venue and it also made it easier to use glass beer bottles which are reusable and easy to hold while greeting and chatting with people.
The labels, invites, menu cards, greetings etc. were printed at a local printer place called Unigrafika Štore. They are quick, reliant and most of all, we loved the quality of the labels. They are incredibly high quality and the colors were perfect. Truly reccomend it.
Our table setting was simple, green and beautiful. A million thanks to Meta from Sanjski šopek for arranging everything for us, for creating such a beautiful athmosphere and creating the most beautiful head piece and wedding bouguet. We found her via Instagram, loved her work and we were the happiest when she said she would do all the flowers.
The most special decoration to us was this beautiful masterpiece: our portrait from Jernej's dad, created for our guests to leave fingerprints for our memory. It is so special, colorful, vibrant and incredibly beautifully made. It's now hanging in our living room and we are reminded of our special day everytime we look at it.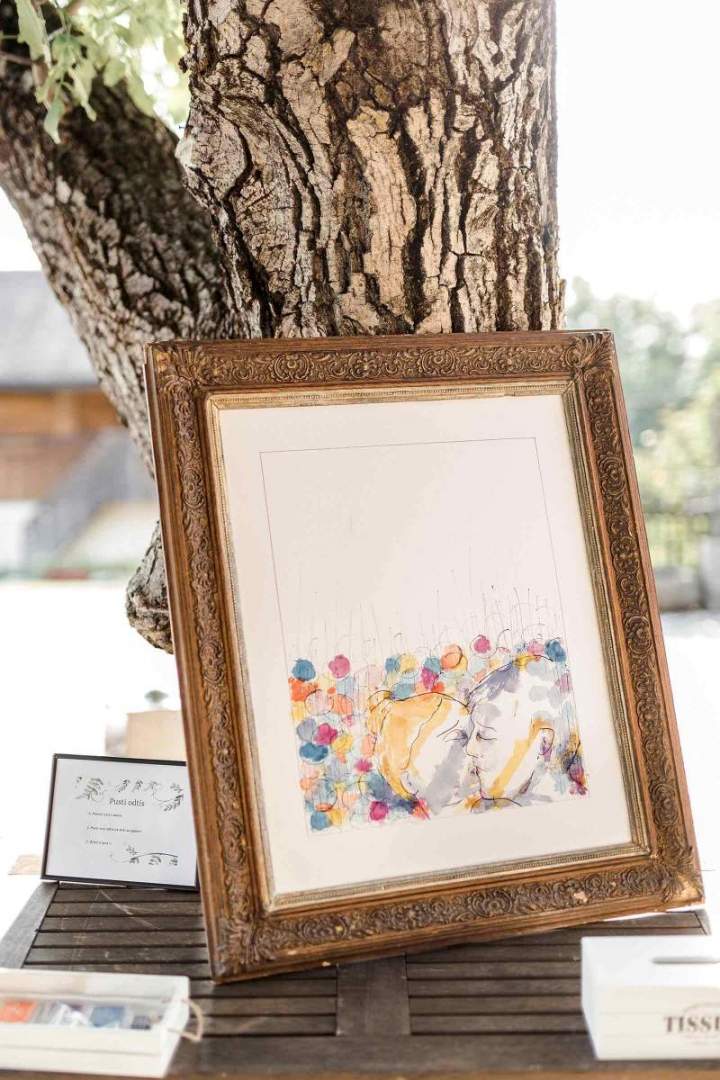 Last but not least. I was in love with my wedding bouquet. It was not only beautifully made, the flowers stayed the same the whole day and night of the wedding, it was not heavy to wear and it was pretty handy too. Again, thanks to Meta from Sanjski šopek for making my flower dreams come true.
Dress and Make up

Oh, here's the hardest, most complicated part of the wedding. At least that was my case. As mentioned before, we only started planning our wedding about 3 months before the actual wedding. I mean, that should be enough time, right? It's only a party with around 30 people. Well, everything went smoothly, until there was time to find a dress, the dress. I was searching and googling and even drawing. I knew what I wanted but I couldn't find it. It was too late to actually find a designer who would make me a dress in a month and Slovenia being a small country, there really weren't that many options. And then, one desperate Saturday morning, 4 weeks before the wedding (imagine the stress!!) I remembered walking by this cute little boutique every day on my way to high school, so I asked my mom if she wanted to come with me and so we went. You guys, I had a wedding dress jewel right infront of my eyes but I didn't see it. Wedding dress boutique Poročne pravljice had the prettiest dresses and the kindest, sweetest owner Veronika (that isn't the case everywhere, which I honestly don't get). I went from trying a dress and then wearing my beautiful dress in less than four weeks without any stress or worry and that's thanks to the kind and very helpful owner. (Do you guys see the pattern - it's always about the people). I wore a beautiful dress from Morilee by Madeline Gardner - they are truly high quality and comfy to wear. Thanks to Veronika I also found a very lovely makeup artist called Apolonija. She created a natural, light makeup that lasted all day and night. I encourage all the women to go and get a test makeup before hand, just to be calm and reassured that everything will go as you would like it to go. There's nothing worse than having a terrible make up or a make up that doesn't suit your vibe, character or mood. Apolonija truly managed to capture who I am and I am grateful for that.
Details
Music - oh my, please choose the music you love and adore. Bad music = bad vibe and that's the last thing you want. I know a lot of people choose the music their parents want but that's not your parent's day, it's yours, they are just a part of your beautiful journey. And listening to music they won't normally listen won't kill them, it will just make them stronger (haha, had to :) It was our first wedding having a DJ and it was our own, and honestly, we would hire him again and again and again. He created an amazing atmosphere, he was laid back and most importantly, he played the music we liked. And both our parents danced :) Thanks for that Jaka.
Cake - Thanks to Instagram and hashtags we found this wonderful, young Slovenian cake artist called Ema, Emazing Creations, that lived in another part of the country. She agreed to deliver us the cake, so that was extremely good news to us. She created this beautiful cake, with two flavors: coconut and chocolate. It was a wonderful combination for us chocolate lovers. I bet she makes delicious fruit cakes as well. As you can see on the photo below (credits: Emazing Creations), it was super pretty as well.
Gifts - We love gifts, giving gifts in particular so this was something we were particularly excited about. We wanted to give something everlasting, local, unique, that would remind our guests of our wedding day. We bought these little enamel cups in a local Emo Celje store and then Jernej's dad sprayed them with our initials M and J to give it a more personal touch.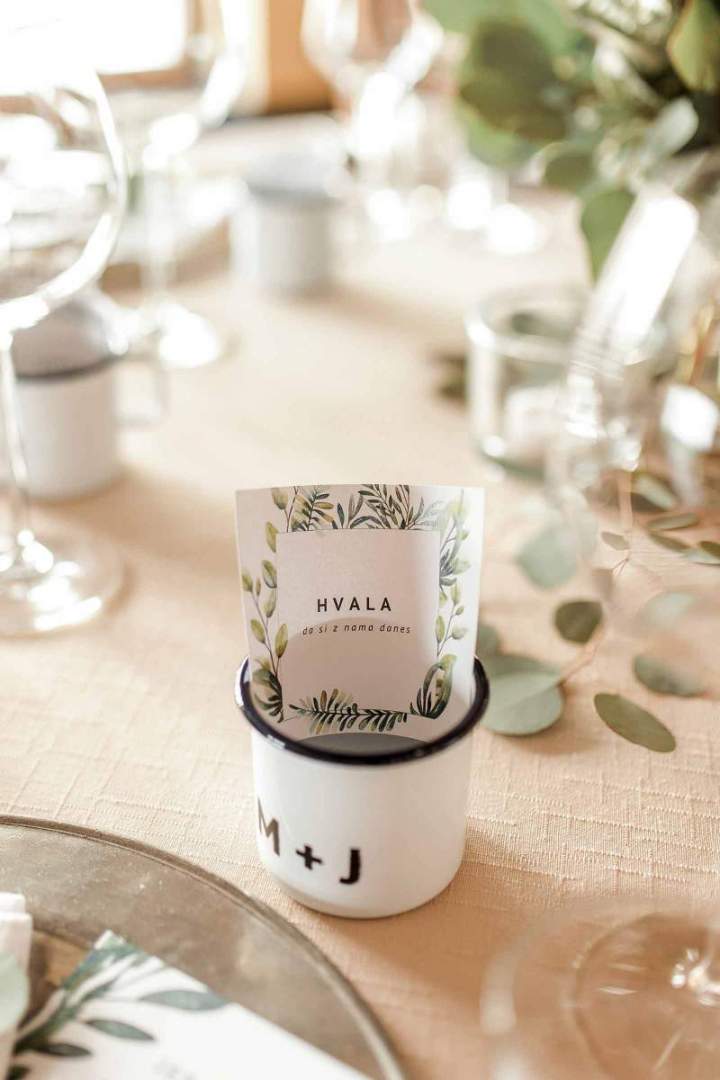 Hey, what about the budget?
Whether in spring, summer, fall or winter, there's one thing all weddings have in common: They are expansive. But here's a secret: they don't need to be. Weddings became more about marketing, Pinterest, pretty dresses, losing weight, spending all the money you have and less about the actual marriage, love and commitment. It's so easy to get lost in all the fuss and muss "you NEED this, omg you really NEED this, it's ONLY a million dollars, it's only ONCE in a lifetime, come on". Well yeah, but so is my life. I only live once and I want to have butter in the fridge the next day. I admit, I became so stressed about the wedding too. At one point I started questioning all the decisions. So Jernej and I went back to the basics. Why are we getting married, what do we want, how much money do we really want to spend, what kind of wedding do we really want to have. It seems like the wedding is the first test of the upcoming marriage. It's all about communication and being on the same page. Once we had all the answers and once we decided we don't want to become broke because of the wedding, everything became easier and truthfully, more relaxed.
We wrote down the maximum budget for every single thing there's going to be in our wedding: venue, music, photographers, flowers, decor, etc. My maid of honor bought me this very handy wedding planner that helped a lot with all the planning. Even though that wasn't our intention but getting married on a Tuesday actually resulted in lower prices. People don't usually get married during the week and so the venues are empty and you can get a better deal. We saved a lot of money on catering (after the church wedding), caterings can be expensive and we really didn't see the meaning of hiring someone who will do the same as we had. Also, by buying cookies at your local school or from a local bakery, that brings value to the community, you get fresh products and they often don't overcharge.
Asking friends or family to decorate your home and/or church will not only create everlasting memories, it will also reduce the cost of a decorater. You can even get creative and send out invites that are unique and homemade - there are tons of ideas on Pinterest. Another way to save money is by hiring the photographers for 4 - 6 hours (instead of the whole day and night). This will reduce the cost and leave you more money for one of those beautiful wedding albums (truly reccomend it - they do cost extra but are stunning) and/or give you an idea to get creative. We always wanted to have one of those Instax mini cameras which give you a photo instantly, so we decided to buy one camera and place it infront of the venue. That way the guests took the photos through their perspective and that created a wonderful memory as well. Plus they felt more relaxed. The point being, there are ways to reduce the cost, we reduced it by 50% with small adjustments and still had a wedding of our dreams.
Last thoughts about an intimate spring wedding
Weather - you never know how the weather is going to be in the beginning of May here in our area. It could be rainy and cold or it could be sunny and warm. We didn't want to take chances with the venue, so we were happy to have a venue that had an indoor - outdoor connection and at one point there were people dancing outside around the open fire and when they were cold they could go in and enjoy. So make sure you have both options in May. Good inside and outside space.

Flowers - you hit the jackpot, there are the prettiest flowers in springtime, so if you plan your wedding a year in advance you can even plant them yourself if you have an extra outdoor space.

Wedding dress - I had a wedding dress with long sleeves which was a good choice, it still tends to get cold in the evening.

Music - Music creates the vibe, so if you have an extra dollar (euro? :) get a musician for the reception or church if you are getting married in a church. It makes a huge difference. It brings out the lovely, happy emotions.

Wedding planners - Yay for big weddings, nay for small. In small weddings people tend to know each other and you don't really need a coordinator and a planner, but if I were planning a large wedding I would definitely hire one. It's just too much stress and you really don't have the time to do everything yourself.

Stress - Remember, you are marrying the person you love. There really is no need to be stressed. At the end, your wedding will be beautiful and you just need to be present that day, because the time flies. Dance like no one is watching, pick the dress you love, have the foods you adore and decorate it so it fits your vibe. But most importantly be present in the moment you become a wife or a husband, it's such a beautiful commitment.

How about you? Are you planning a wedding? What are your experiences?